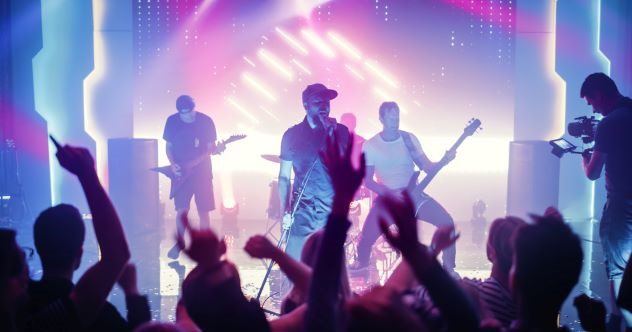 So many songs crash the charts every year. And so many of them are pressed from the same template by the monolithic music industry machine that it can often be difficult to really stop and listen. But for those who take the time, there can sometimes be secrets and spoils lurking beneath the guitar riff or lingering by the beat.
While influences range far and wide, and few songs arrive out of a formless void, there are nonetheless some tracks that carry more similarities to their musical predecessors than others. Musical artists from across the genres have a habit of channeling their own influences and picking up a lyric here, a melody there, and re-engineering them into their own music. Far from being cover songs or straight-up samples, these are 10 successful songs that managed to secretly channel other big hits.
Related: 10 Popular Songs Given The Rock Treatment
10

Las Ketchup, "The Ketchup Song (Aserejé)"

Las Ketchup took over the airwaves during the summer of 2002, breaking out from their native Spain with a mixed language song featuring a nonsense chorus and a catchy accompanying dance. "The Ketchup Son" hit number one on 20 European charts as well as Australia, Canada, and New Zealand. But there's more to this song than meets the ear.

"The Ketchup Song's" lyrics tell the story of Diego, a hip-hop fan who fancies himself something of a ladies' man—and a rapper. While the chorus is gibberish, the verses leading into it provide crucial context for the song's main inspiration: It is, in fact, a mangled version of the Sugarhill Gang's 1979 classic "Rapper's Delight." The fictional Diego is a big fan of the song and enjoys drinking, dancing, and singing along as best he can.

While on the surface, the two songs don't sound all that similar, once you tune into the chorus of "The Ketchup Song," you can really hear where Las Ketchup was coming from—but don't hold your breath waiting to hear what Wonder Mike and Grandmaster Caz think of it.[1]
9

Deadmau5 feat. Rob Swire, "Ghosts N Stuff"

Music producer and DJ Joel Zimmerman—better known by his on-stage moniker Deadmau5—has a penchant for referencing pop culture, old movies, and memes in his tracks, but rarely does the electro house master take inspiration from other sources. That is not, however, the case for his collaborators.

Deadmau5 typically composes the melody and core elements of his tracks before he puts out for a singer and/or lyricist to add their own unique touch, and this was no different when he called on Pendulum vocalist Rob Swire to put vocals on what ended up becoming one of the biggest tracks of his career—"Ghosts N Stuff."

On a Reddit AMA, however, Swire admitted to lifting the melody from Chris Isaak's iconic soft-country track "Wicked Game," saying he "may have borrowed the melody." Thankfully, no lawsuits have been brought against the pair to date, but then Isaak probably isn't a big dub, bass, and drops kind of guy.[2]
8

Olivia Rodrigo, "Brutal"

Ex-Disney anti-pop princess Olivia Rodrigo found herself in hot water recently when music fans noticed a striking similarity between her 2021 hit song "Brutal" and legendary singer-songwriter Elvis Costello's "Pump It Up." Indeed, they share what sounds to be pretty much the same riff, with the inspiration between one track and the next being all but undeniable.

But while the similarities are too obvious to miss, that's not quite where the story ends, as Costello himself has cited Bob Dylan's "Subterranean Homesick Blues" as the inspiration for "Pump It Up." As it happens, the riff long predates Costello and has appeared in a variety of hit songs before and since, including the Rogue Traders' 2005 hit "Voodoo Child."

Recognizing the futility of fighting over good music, Costello even came out in defense of Rodrigo, getting his sizeable fanbase to back off the young singer by stating that this is just "how rock & roll works… You take the broken pieces of another thrill and make a brand new toy." It's hard to argue with that.[3]
7

Sam Smith, "Stay with Me"

Tom Petty saw his fair share of detractors and imitators across a 40-year career, with acts as diverse as the Red Hot Chili Peppers and The Strokes all staking a claim to a piece of his musical genius—and mostly unchallenged too.

However, when Sam Smith's "Stay With Me" went to the top of the UK Top 40 charts and to number two on the Billboard Hot 100, it was hard for the Heartbreakers frontman to stay quiet. Despite Smith's track being slow-tempo and gospel-infused, it bears an uncanny likeness to Petty's guitar-driven "Won't Back Down," with the vocal melodies syncing up despite the difference in key.

But all's well that ends well, and after a bit of back and forth between the singers' respective management and legal teams, Smith acknowledged the influence of his musical forebears by giving a co-writing credit to Tom Petty and "I Won't Back Down" co-writer Jeff Lynne—although it wasn't enough for them to feature on the "Stay with Me" Grammy nomination.[4]
6

The Sex Pistols, "Pretty Vacant"

The Sex Pistols tore through the late '70s music scene under the banner of punk rock, wrecking stages, taking names, and planting a Union Jack squarely in the center of the genre. Despite only releasing one studio album—1977's Never Mind the Bollocks, Here's the Sex Pistols—the band's influence is extensive, reverberating through the decades and across the genres. And while some of their own influences, like Iggy Pop and the New York Dolls, aren't difficult to hear, others couldn't be farther from home.

Bassist Glen Matlock revealed that the main riff from the Pistols' "Pretty Vacant"—a massive hit in its own right—was inspired by none other than the thoroughly mainstream Europop group ABBA. Armed with the song's chord progression and lyrics, Matlock was in search of the final piece when he heard ABBA's "SOS" on the radio, and it gave him what he needed. When ABBA's own bassist caught wind of this, far from feeling troubled or litigious, he put Matlock on his Christmas card list…[5]
5

Led Zeppelin, "Whole Lotta Love"

Led Zeppelin has a rich history of casual plagiarism, liberally adopting parts of other, older songs throughout the prime of their career—and rarely being caught at the time. It should come as no surprise then that one of their biggest and best-known tracks, "Whole Lotta Love," was cribbed from someone else's songbook.

And that someone is songwriter Willie Dixon, via the deeply influential blues musician Muddy Waters. Zeppelin's singer Robert Plant admitted to adapting certain elements of the "Whole Lotta Love" lyrics from Dixon's "You Need Love," which was famously and popularly recorded by Waters back in 1962—a mere seven years before the rock quartet put out Led Zeppelin II.

Plant claimed guitarist Jimmy Page's iconic riff (which would go on to become the theme music for UK chart show Top of the Pops) was Page's own invention. Still, even that bears some similarity to Dixon's original composition. In any case, a lawsuit brought by Dixon in 1985 wound up gaining the blues artist credit on subsequent Zeppelin releases featuring the track, alongside all the royalties that come with it.[6]
4

Sonny & Cher, "I Got You Babe"

Sonny Bono and Cher entered the pop music scene in the '60s, shooting to fame and stardom with their tracks "Baby Don't Go" and "I Got You Babe." With Bono writing most of their material and Cher adding the star quality, the pair took on bigger acts than themselves for their share of the public's attention, often coming out on top.

One such contemporary was Bob Dylan. Bono stated that their 1965 song "I Got You Babe" was deeply inspired by Dylan's 1964 track "It Ain't Me Babe," saying, "I always wrote, either subliminally or intentionally, some phrase I'd hear somewhere… And I'd look for a hook lyric, you know, and you go—babe, I got you, babe… Dylan had 'babe' all over the airwaves, you know…. And I took that and then just added the 'I got you' part to it."

Dylan himself was less than impressed by this, aware that other artists were making new hits from his songs. He acknowledged The Byrds, The Turtles, and Sonny & Cher were taking parts of his music and tuning it to their audience but couldn't get behind their "jingly-jangly" kind of sound.[7]
3

Mark Ronson and Bruno Mars, "Uptown Funk"

When international super-producer Mark Ronson and multi-instrumentalist R&B star Bruno Mars collaborated on "Uptown Funk" in 2014, it had all the makings of an instant success. The song's catchy chorus, chantable breakdown, and retro beat sent it straight to the top of the charts, and pretty much everyone was digging it. Everyone apart from The Gap Band.

While Ronsons liberally admitted on many occasions to being influenced by older artists and funk records, he never namedropped The Gap Band's "Oops Upside Your Head." Nonetheless, the similarities between the disco staple and "Uptown Funk" are more than just coincidental.

Things came to a head when The Gap Band initiated a lawsuit, claiming Ronson and Mars had stolen from their song and seeking to be credited and receive royalties from the smash hit. And, following the suit's success, they did; five new names—Lonnie Simmons, Ronnie Wilson, Charles Wilson, Robert Wilson, and Rudolph Taylor—were officially added to the track's publishing credits in 2015.[8]
2

Bon Jovi, "You Give Love a Bad Name"

Sometimes, a song's influences come not from the singer or band but the songwriter—and with the way the music industry works, with certain behind-the-scenes talents always on speed dial to lend a hand with a major artist's next big record, so many songs wind up having the same writer. But this is nothing new.

Before ever penning a line of Bon Jovi's "You Give Love a Bad Name," Desmond Child wrote "If You Were a Woman (And I Was a Man)." Bonnie Tyler cut the record, and it was a huge hit in Europe but not the U.S. Thus, when recording with Bon Jovi a few years later, Child took direct inspiration from his and Tyler's track, which he thought ought to have broken the U.S. market.

Child consciously reworked the chorus, lifted the melody, orchestrated the guitar riff, and, in the process, created an international mega-hit for Jon Bon Jovi and company. And there's barely been a Bon Jovi record since that hasn't benefitted from the songwriter and producer's magic touch.[9]
1

One Direction, "Best Song Ever"

UK boyband One Direction found themselves caught in a bit of a media storm back in 2013 when likenesses between their "Best Song Ever" and The Who's classic rock track (and CSI: NY theme song) "Baba O'Riley" were identified by critics. While the intros to both songs are uncannily alike, the inspiration didn't come from the boys, who were in their late teens at the time, but from the songwriters—Wayne Hector, John Ryan, Ed Drewett, and Julian Bunetta—all of whom were older, wiser and should probably have known better than to put out something so similar to such a popular record.

Responding to the controversy, The Who's guitarist and principal songwriter Pete Townshend recounted the story of meeting Bachman-Turner Overdrive singer and guitarist Randy Bachman, who admitted to his rock contemporary that BTO copied "Baba O'Riley" for their hit track "You Ain't Seen Nothing Yet." The One Direction boys weren't the first to do it—if they themselves did it at all—and they almost certainly won't be the last.[10]