When it comes to modern horror novels, Stephen King is the undisputed king of the genre. Readers who have delved a little deeper will likely have come across authors such as Grady Hendrix, Paul Tremblay, and Stephen Graham Jones. But if you've already torn through the back catalogs of these authors, then here are 10 lesser-known horror stories to check out this spooky season.
These books haven't had much hype—they don't have movie adaptations out (at least not yet!) and were either independently published by the authors themselves or by indie publishing houses. But sometimes, taking a chance on little-known authors can pay off with big scares.
Related: 10 Classic Horror Stories Inspired By True Events
10

Maggie's Grave (2020) by David Sodergren

For Maggie's Grave, David Sodergren says he "was inspired by a real-life witch's grave in Scotland. It's the only monument of its kind in the UK and sits in a field, towering over the roadside. An eerie, unsettling place, and the perfect inspiration for a horror story!" This monument to Maggie Wall can be found near the small village of Dunning, but Sodergren's book is set in the fictional Scottish town of Auchenmullan, which sits in the shadow of a mountain.

When a group of the town's teenagers meets an American tourist in the pub, they decide to take her up the mountain to see the single gravestone that sits there, bearing the inscription, "Maggie Wall buried here as a witch." But what starts out as some creepy fun turns into an all-out bloodbath.

Maggie's Grave reads like a campy B-movie, which isn't surprising given the fact that Sodergren says, "I write my books as movies I'd love to see, and visualize them in my head as I'm writing them." With a cinematic feel, this folk horror story is heavy on both laughs and gore.[1]
9

Tidepool (2021) by Nicole Willson

Taking place in 1913, Nicole Willson's Tidepool is a seaside-set Lovecraftian nightmare. When Sorrow's brother fails to return from a business trip to Tidepool, she sets off to figure out what happened to him. She finds the reception of the townspeople to be as chilly as the breeze whipping off the waves, but she's determined to find out what happened to her beloved sibling.

Sorrow realizes that she might be in a little over her head when a mangled body washes up on shore. With a mysterious tentacled creature (or maybe creatures) lurking beneath the surface of the water and long-held secrets swirling around the gloomy and isolated town, Sorrow finds herself trapped. The majority of the novel is chillingly atmospheric, but it eventually descends into bloody chaos. "If you like Hammer horror, you'll enjoy Tidepool," Willson says.[2]
8

The Watchers (2021) by A.M. Shine

A film adaptation of A.M. Shine's The Watchers is due to be released next year, directed by Ishana Shyamalan (daughter of M. Night Shyamalan) and starring Dakota Fanning in the lead role. Once a trailer is released and the press cycle starts up, sales of this little-known book will likely rise, but until then, it's quietly bubbling under the surface.

After her car breaks down while driving through rural Ireland, main character Mina decides to venture into the woods to find help. As darkness descends, she begins to hear terrifying screams, but then she comes across a bunker. Once inside the shelter, she learns that she and the few other people inside are trapped by creatures called "the watchers."

The mystery of what exactly these monsters are and what they want drives the story. Shine says that the novel was heavily influenced by Irish mythology because "there's no escaping superstitions growing up in the rural west of Ireland. Every odd-shaped rock or woodland seems to have some dark story behind it."[3]
7

The Burn Street Haunting (2023) by Richard Gadz

Due to be released on October 31, 2023, The Burn Street Haunting is set in London in 1973 and follows a crook looking to hide out in the anonymity offered by the Big Smoke. He rents a room in a rundown boarding house on Burn Street, hoping to have found a safe haven from the other criminals pursuing him. But unfortunately, it's not only humans who are hunting him.

Thanks to an incident in his past, our protagonist has gained some helpful psychic abilities, although that incident also resulted in him being haunted by an evil supernatural entity. But is something supernatural really bleeding into reality, or are the ghosts all in his mind? Gadz offers up a fresh take on the classic ghost story, and lovers of Edgar Wright's Last Night in Soho (2021) should check it out for its similar atmosphere—although the book has '70s, rather than '60s, flair—and ghostly psychological thriller elements.[4]
6

Crossroads (2020) by Laurel Hightower

For anyone who doesn't have the time to commit to a full novel, check out Laurel Hightower's novella Crossroads. Despite being on the shorter side, the story certainly isn't light. It is set two years after Chris's son dies in a car crash, and she understandably isn't coping well. While visiting his roadside memorial one day, she cuts her finger, and the blood lands where his body was found. Later that night, she briefly sees his ghost and then becomes obsessed with trying to bring him back from the dead.

Grief of all kinds is painful, but the grief a parent experiences after the death of a child is particularly acute. Writing the novella took an emotional toll on Hightower because "looking at the idea of losing a child was, and still is, something I don't want to look at or think of directly. But that helped shape Chris, her experiences, and how she copes." With that grounding in real-life emotional horror, Crossroads dives headfirst into some gory body horror in its exploration of the limits (or lack thereof) of parental love.[5]
5

At Home with the Horrors (2022) by Sammy Scott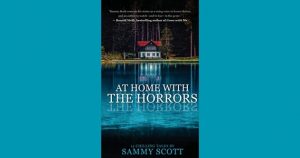 Horror readers who love short stories should check out Sammy Scott's At Home with the Horrors. This creepy collection is made up of 13 short stories and one novella, all of which are about things going wrong in the place that many people consider to be a safe haven: their home. Some of the stories capture the feeling of Twilight Zone episodes, while others are more reminiscent of Black Mirror.
Here are a few examples of what readers can expect: "Theresa" follows a woman who is trapped in a Groundhog Day-style time loop that sees her tragically reliving the day her husband was murdered. "Scared Mary" is about a woman who is the victim of her husband's scare pranks, which he films for YouTube. And "Something Else Entirely" starts with a couple's pet cat chasing a strange creature into the woods, but when the feline returns, something seems to be decidedly off with it.
Scott's tales usually end with a gut punch of a twist, and they're likely to crawl their way under your skin to leave you feeling unsettled for days afterward.[6]
4

Bones (2018) by Andrew Cull

Andrew Cull has worn many different horror hats. He wrote and directed the 2010 film The Possession of David O'Reilly, created a faux-reality horror YouTube series called In the Dark, and now dedicates much of his time to the world of books. He says that writing novels and short stories is "the happiest I've been as a writer for a long time."

Bones collects four of Cull's short stories and one four-page piece of flash fiction, all of which deal with death and family. They're creepy and gruesome but also heart-wrenchingly tragic at times.

"Did You Forget About Me?" is about a man returning to his estranged childhood home and finding something that's been long awaiting his return. "Hope and Walker" follows a little girl who can hear the dead and is drawn into a mystery surrounding a crime. "The Trade" is also told from the POV of a child and is about offerings of dead creatures being left at a family's door. "Knock and You Will See Me" follows a woman who seemingly starts receiving worrying notes from her recently deceased dad. And the flash fiction "The Rambling Man" is about a village sacrificing girls to a beast in the woods.[7]
3

Kill Creek (2017) by Scott Thomas

Kill Creek was born from Scott Thomas wondering, "What would happen if you took horror writers—people who think about the supernatural for a living, who have researched it and fantasized about it—and you put them through a real, honest-to-God supernatural experience." The story starts with four horror authors being invited to spend Halloween night in a haunted house as a publicity stunt, with the live-streamed interview being intended to give a boost to the horror genre.

Each of the authors writes a different type of horror. Our main character, Sam, writes popular best-selling novels in the vein of Stephen King; one writes graphically violent books; another pens classic literary tales; and the last one writes R.L. Stein-style horror for teens. All four authors expect the old house to simply be an atmospheric setting, but then things start to go bump in the night.

Along with a hefty dose of supernatural scares, Thomas dissects the horror genre, probing the reasons that writers and readers are drawn to tales of terror. Kill Creek is a horror book for horror fans. An hour-long adaptation began development in 2018 but has yet to materialize.[8]
2

Screams from the Void (2021) by Anne Tibbets

For a slice of sci-fi horror, look no further than Screams from the Void. The book follows the crew of the Demeter spaceship as they collect botanical life from distant planets. But things start to go very wrong when a vicious alien creature sneakily makes its way aboard. Mechanics Ensign Reina serves as our main character, and as well as trying to survive the attacks of this strange life form, she's also dealing with the threat posed by her abusive ex-boyfriend, Morven.

There's so much bloodshed that Anne Tibbets drew up a map of the ship and marked Xs where people were killed so that she could keep it all straight while writing. "We're dealing with a beast," she said. "There's going to be carnage. I didn't think it would be fair for the story to shy away from that." It certainly doesn't shy away from the carnage, with blood and gore filling many pages of this horrific thrill ride through space.[9]
1

They Stalk the Night (2023) by Brian Moreland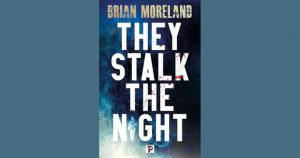 Small towns with dark secrets are popular in horror novels, and Brian Moreland offers up a great addition in They Stalk the Night. The novel is set in two remote Minnesotan towns, the fictional Hellum and Deer Haven. An oil pipeline is being built through the nearby snow-covered woods, and the workers of the construction company blow up an old ceremonial hut. While the structure looks creepy, they think that it's surely nothing more than a silly superstitious hangover from the past.
Except the building and its surrounding bone-filled cairns weren't just built out of superstition. Now, the bizarre monster that stalks the forest is free to go on a murderous rampage. The story reads much like an action-packed horror movie. With its chilly winter setting and an underpinning of Norse mythology, They Stalk the Night is as rich with atmosphere as it is with blood. It makes the perfect read for the colder months of the year.[10]