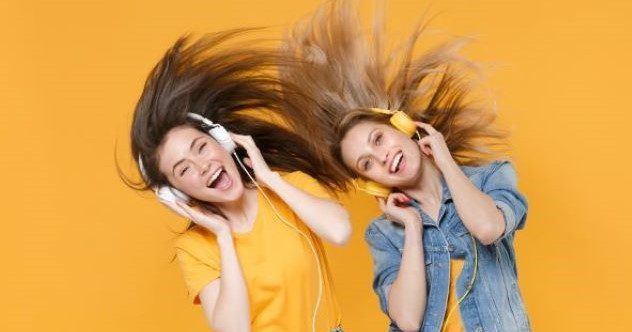 One-hit wonders are fairly common in the music industry, often because catchy and/or gimmicky songs are just a flash in the pan, but sometimes it's because listeners simply move on. Less common are the musicians who manage the difficult task of releasing a popular follow-up song but then can't keep the success going and end up as two-hit wonders—at least when it comes to the American charts.
Here are 10 bands and solo acts who (so far) are part of the relatively rare two-hit wonder club.
Related: Top 10 Musicians Who Sold Their Soul To The Devil
10

Vanilla Ice: "Ice Ice Baby" and "Play That Funky Music"

In November 1990, Vanilla Ice's "Ice Ice Baby" became the first rap song to top the Billboard Hot 100, helping the genre go mainstream. It also proved to be a controversial song, thanks to debate over who actually wrote the lyrics and its unauthorized sampling of Queen and David Bowie's "Under Pressure." But it wasn't Vanilla Ice's only hit.

"Play That Funky Music" was the song that was initially being pushed, but it wasn't taking off. Darrell Jaye, a radio DJ from Georgia, flipped the record over to its B-side and found "Ice Ice Baby." Dave Morales, a DJ from Mississippi, then heard the track and helped it take over the radio waves. The success of "Ice Ice Baby" led to "Play That Funky Music" being rereleased, and it finally climbed to No. 4 at the start of 1991. Like "Ice Ice Baby," this song was also the subject of a lawsuit because of its unpermitted sampling of Wild Cherry's original version.[1]
9

Cobra Starship: "Good Girls Go Bad" and "You Make Me Feel…"

Cobra Starship got their start with the theme song for Snakes on a Plane (2006), titled "Snakes on a Plane (Bring It)," but that song didn't actually gain enough traction to chart. It took a few singles before they found mainstream success with the 2009 song "Good Girls Go Bad," which featured Leighton Meester of Gossip Girl fame and made it to No. 7 on the Hot 100.

It was another two years before they shook off the one-hit wonder title, with "You Make Me Feel…" featuring Sabi (and for some reason Robin Williams in the music video), also reaching the No. 7 spot. Cobra Starship split in 2015, but frontman Gabe Saporta stayed in the music industry as a manager. In a 2019 interview with Billboard, he said, "I took a swing at pop. I experienced it to its fullest." When asked if he misses performing, he replied, "I can honestly say not at all."[2]
8

Soulja Boy: "Crank That (Soulja Boy)" and "Kiss Me Thru the Phone"

In 2007, Soulja Boy burst onto the scene with "Crank That (Soulja Boy)" and its accompanying dance. The song spent seven weeks at the top of the Hot 100 and received a Grammy nomination for Best Rap Song. But Soulja Boy also got into verbal spats with other rappers who criticized the song, including Ice-T, who said it had "single-handedly killed hip-hop."

Soulja Boy was determined to prove his haters wrong, saying, "I didn't want to be a one-hit wonder. But I put into my head that I wasn't going to top 'Crank Dat.' That's what made me hot, but I'm going to keep making hits." Technically, he only really made one other hit. "Kiss Me Thru the Phone," featuring Sammie, managed to reach the No. 3 spot in 2009, but afterward, he dropped off the radar.[3]
7

Ugly Kid Joe: "Everything about You" and "Cats in the Cradle"

Ugly Kid Joe's debut single, "Everything About You," got a massive boost in popularity after being included in Wayne's World (1992), propelling it to No. 9 on the Hot 100 in May 1992. Their next few singles didn't make much of an impact, but then their cover of Harry Chapin's 1974 song "Cats in the Cradle" earned them the No. 6 spot in April 1993. They released a few other singles, but none of them charted, and the band broke up in 1997.

They reformed in 2010, but none of their songs have matched the popularity of "Everything About You" and "Cats in the Cradle." In a 2019 interview at Ramblin' Man Fair, frontman Whitfield Crane admitted that he got sick of playing the two hits in the '90s but that he loves playing them now. He describes playing the songs as "cathartic for us for as a band" because they didn't know if they'd play together again, and they're also encouraged by the crowds' enthusiastic reaction to them.[4]
6

Taio Cruz: "Break Your Heart" and "Dynamite"

For a brief period in 2010, English singer Taio Cruz ruled the clubs with his dance anthems "Break Your Heart" and "Dynamite," which charted on the Hot 100 at No. 1 and No. 2, respectively. But even collaborations with other artists—including Kesha, Kylie Minogue, and Flo Rida—failed to produce more hits.

In 2018, Cruz commented on his failure to replicate the success. "I suppose it's more difficult to engineer a No. 1," he says in regard to the new emphasis on streaming. "You need to have more pop cultural relevance, in the sense that it's not just your music that makes you big. It's a lot of social media, a lot of viral things, influencers." Still, he admits that "whenever I write anything, I want it to be the best, and the best is No. 1."

He had changed his tune by 2020, though, saying he feels happy with what he achieved and doesn't "necessarily crave the rat race, where I feel like I need to constantly maintain that position."[5]
5

Natasha Bedingfield: "Unwritten" and "Pocketful of Sunshine"

Natasha Bedingfield's "Unwritten" was inescapable in 2006. It was the most played song on U.S. radio that year, climbed to No. 5 on the Hot 100, was the opening theme song for the MTV reality show The Hills, and was even nominated for a Grammy award.

Two years later, Bedingfield, who had already racked up a handful of Top 10 hits in the UK, scored another No. 5 on the Hot 100 with "Pocketful of Sunshine." But she didn't achieve long-lasting success in the States. "I did six months of a different state every day, and sang at radio stations with an acoustic guitar and being just very 'real,'" Bedingfield told the Independent in 2019. "It just didn't translate."

The singer-songwriter doesn't seem that disappointed, though, saying, "It's almost worse to be overexposed or to be in someone's life too much." She's released numerous singles since her moment in the spotlight, but none of them have found mainstream success. Bedingfield's brother, Daniel, also happens to be a two-hit wonder in America. "Gotta Get Thru This" went to No. 10 in 2002, and "If You're Not the One" reached No. 15 in 2003, but he hasn't charted since.[6]
4

CeeLo Green: "Crazy" and "F**k You! (Forget You)"

"Crazy" was the debut single of Gnarls Barkley, a duo formed of singer/rapper CeeLo Green and producer Danger Mouse. It climbed to the No. 2 spot on the Hot 100 and won a Grammy for Best Urban/Alternative Performance. Their next single, "Going On," wasn't released until 2008 and only reached the No. 88 spot. However, Danger Mouse said chart success was never their goal: "It's not like we're a hit factory."

But in 2010, Green scored another huge hit—this time under his own name. "F**k You! (Forget You)" reached No. 2 in March 2011 and won CeeLo another Grammy. But like his first hit, this one also didn't lead to further chart-topping success. Despite this, Green has continued to release music and also had a stint as a judge and coach on the reality TV singing show The Voice. [7]
3

Limahl: "Too Shy" and "Never Ending Story"

Like CeeLo Green, Limahl is a one-hit wonder twice over. He was the lead singer of Kajagoogoo, whose synth-pop 1983 single "Too Shy" went to No. 5. But shortly afterward, Limahl was fired. "He wanted the band to go in a different direction to the rest of us," said bassist Nick Beggs. "Eventually, we realized we were on a different planet to Limahl."

Limahl then launched a solo career and provided the vocals for the theme song of The NeverEnding Story (1984), which topped charts around the world. The song only peaked at No. 17 on the Hot 100, but its inclusion in season three of Stranger Things gave it another boost in 2019.

In an interview with Billboard about the song's renewed success, Limahl expressed his happiness at it being back in the spotlight: "I was over there working really hard. I'd toured America for 16 weeks, and we were doing two cities a day; I was phoning into radio stations and going into radio stations, and it seemed never-ending, and I was a bit dissapointed [sp] when it only got to No. 17, which I'd come to live with. So this is a huge bonus!"[8]
2

Psy: "Gangnam Style" and "Gentleman"

"Gangnam Style" was instantly successful in South Korea when it was released in July 2012, securing the No. 1 spot on the Gaon Chart (now called the Circle Chart). It wasn't long before it dominated charts worldwide. The music video was the first video on YouTube to hit 1 billion views, and in October, it rose to the No. 2 spot on the Billboard Hot 100.

Although Psy's follow-up, "Gentleman," didn't have quite as big an impact, it still reached No. 5 on the Hot 100. The music video received 18.9 million views on its first day, making it the most viewed video at the time on YouTube within the first 24 hours.

"My only goal was to avoid being called a One-Hit Wonder," Psy told MTV in 2013. Although he achieved his goal, he never made it past two hits in the States, with all subsequent releases failing to crack the Top 20. But in his native Korea, he's had a successful career, scoring a No. 1 as recently as 2022 with the release of "That That" in collaboration with Suga of BTS.[9]
1

Carly Rae Jepsen: "Call Me Maybe" and "Good Time"

Carly Rae Jepsen's "Call Me Maybe" was one of the biggest songs of 2012, coming second only to Gotye's "Somebody That I Used to Know" in terms of numbers. Jepsen's catchy tune spent 9 weeks in the top spot of the Hot 100 and was nominated for Song of the Year and Best Pop Solo Performance at the Grammys.

Jepsen managed to shake off the one-hit wonder label that same year with the release of "Good Time" in collaboration with Owl City. The song also pulled Owl City out of one-hit wonder status, which he had earned in 2009 with "Fireflies."

Reflecting on the success of "Call Me Maybe," Jepsen told Billboard in 2017 that there was "this terrifying feeling of, 'Oh god, what if it's the only music that I create?'" Both Jepsen and Owl City currently remain two-hit wonders, but both artists have continued making music for their loyal fan bases.[10]