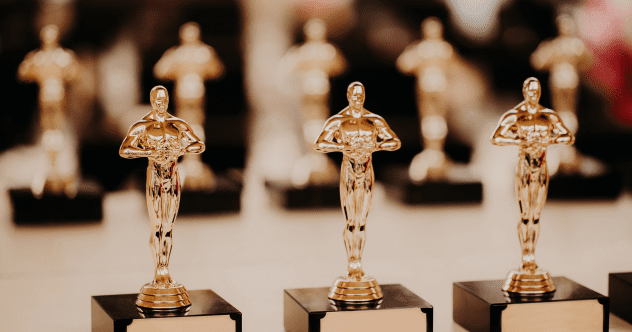 Grab your popcorn and prepare to be dazzled by the glitz, the glamour, and the jaw-dropping moments of award shows. From unexpected speeches to shocking upsets, award ceremonies have long been a breeding ground for the unforgettable, the absurd, and the downright surreal.
In this star-studded countdown, we're rolling out the red carpet to revisit the top ten most memorable award show moments. So, fasten your seatbelts and get ready for a rollercoaster ride through the annals of showbiz history because these moments are what legends are made of.
Related: 8 Craziest Celebrity Award Show Conspiracy Theories
10

Kanye West vs. Taylor Swift: 2009 MTV Video Music Awards

In award show history, one moment stands out like a pair of rhinestone-studded cowboy boots: the 2009 MTV Video Music Awards showdown between Kanye West and Taylor Swift. It was the clash of two titans, and that night, the sparks flew, and it wasn't from the stage pyrotechnics.

Kanye, always one to keep things low-key, stormed the stage during Taylor Swift's acceptance speech for Best Female Video. With the swiftness of a ninja (or maybe a rapper on a mission), he grabbed the mic from Taylor and proclaimed, "I'ma let you finish, but Beyoncé had one of the best videos of all time." Talk about an unforgettable mic-drop moment.

Taylor Swift, the undisputed queen of catchy break-up anthems, looked as if she had seen a ghost while the audience gasped. And so began the epic feud that would give us more drama than a season of reality TV. Ultimately, this MTV VMA moment became an iconic snapshot, reminding us all that in the glitzy world of award shows, anything can happen when the stars align. Or, in Kanye's case, when he takes the stage.
9

Jennifer Lawrence's Tripping Incident: 2013 Oscars

The 2013 Oscars came with an unexpected twist. Jennifer Lawrence, the lovable, unfiltered Hollywood darling, managed to steal the show in more ways than one. As she gracefully ascended the stairs to claim her Best Actress award for Silver Linings Playbook, she tripped over her Dior gown. But did she panic? No, she laughed it off like a winner. Even A-list stars have their clumsy moments.

With one memorable stumble, Jennifer Lawrence instantly became the internet's favorite GIF, trending on social media and earning a spot in the annals of award show history. Her endearing "What are you gonna do?" shrug made her the queen of relatable moments. Who hasn't had an embarrassing fall or wardrobe malfunction at the worst time?

Lawrence's mishap showcased her humility and reminded us that perfection is overrated. It's the candid, genuine moments like these that make award shows unforgettable. So, if you ever find yourself feeling a little clumsy, remember Jennifer Lawrence at the 2013 Oscars. After all, it's not the fall that defines us but how we pick ourselves up and laugh about it.
8

Ellen's Star-Studded Selfie: 2014 Oscars

It's time for the legendary Ellen's star-studded selfie at the 2014 Oscars. It was the selfie heard around the world, a masterclass in the art of group photography. Ellen DeGeneres, the ringmaster of this star-studded circus, managed to corral a group of A-listers that could rival the cast of a Hollywood blockbuster.

With a wave of her magic smartphone, Ellen summoned the likes of Meryl Streep, Brad Pitt, Jennifer Lawrence, and even Bradley Cooper into the frame. It was a celestial alignment of Hollywood's finest, a selfie so epic it practically had its own gravitational pull.

The resulting photo became an instant icon, breaking the internet and setting a new standard for award show shenanigans. It was as if the gods of Tinseltown themselves had blessed us with this moment of pure, unadulterated celebrity magic.
7

Adele's Emotional Grammy Speech: 2017 Grammy Awards

Adele's emotional speech at the 2017 Grammy Awards was like a rollercoaster of feelings, and boy, did she take us for a ride. The British songstress, known for her powerhouse vocals and soulful ballads, didn't disappoint when she bagged five Grammys that night. But it was her speech that left us all misty-eyed.

In true Adele fashion, she started her speech with a charming British accent and a self-deprecating quip about restarting her tribute to the late George Michael, showing that even the biggest stars can have their moments of vulnerability. And vulnerability was the name of the game that evening as Adele's voice cracked and she fought back tears. It was a raw, authentic, and utterly endearing moment that made us love her even more.

She went on to express her admiration for Beyoncé, who was also nominated in the same category, and her heartfelt words became an anthem for female empowerment in the music industry. She made us believe it's possible to be fierce competitors and supportive friends simultaneously.

Adele's speech that night was a lesson in grace, humility, and the power of genuine emotions. It reminded us that even in the world of award shows, real feelings can shine through and make for the most memorable moments. Adele, you had us at "Hello" and left us in awe with your Grammy speech.
6

Jack Nicholson's Photobomb: 2013 Oscars

Few moments have left a lasting impression, like Jack Nicholson's interview interruption at the 2013 Oscars. When he decided to sneak into a live interview with Jennifer Lawrence and her freshly acquired Best Actress Oscar, he unwittingly became an internet sensation.

While Jennifer was basking in the glory of her win and flashing her trademark "I can't believe this is happening" smile, Nicholson saw an opportunity. With his iconic grin and those unmistakable sunglasses, he materialized behind her, giving the star some much-deserved praise. Lawrence's reaction was priceless—a mix of shock and amusement, as if the Joker himself had just appeared out of thin air.

What made this interview so memorable was the perfect blend of Hollywood royalty meets cheeky prankster. Jack's legendary status in the industry only added to the hilarity of the moment. In a world of carefully orchestrated red-carpet appearances and meticulously rehearsed acceptance speeches, Jack's interruption was a delightful reminder that the Oscars can still surprise us and that legends never lose their charm.
5

Ricky Gervais Roasts the Golden Globes… Again

Ricky Gervais roasting the Golden Globes is like a fine wine—it just gets better with age and leaves a lasting aftertaste. The British comedian and master of snark has hosted the prestigious awards show multiple times, and his ruthless takedowns of Hollywood's finest have become the stuff of legend.

Year after year, Gervais takes to the stage, armed with his razor-sharp wit and a devil-may-care attitude that would make even the most seasoned comedians squirm. He has a knack for skewering the self-importance of the entertainment industry, and his targets range from A-list actors to the very organization that invited him to host.

Gervais doesn't hold back, which makes his roasts so deliciously unforgettable. He's the jester who dares to speak the truth in a room filled with pretense and pomposity. His irreverence is a breath of fresh air in an otherwise stuffy awards ceremony.
4

Halle Berry's Historic Oscar Win: 2002 Oscars

In the grand tapestry of award show history, some moments shine brighter than a sequined gown under the spotlight. Halle Berry's historic Oscar win in 2002 is one of those dazzling gems. The Academy Awards have seen their fair share of memorable moments. Still, Berry's triumph is undoubtedly a top contender for the Hall of Fame of award show glory.

When Halle Berry's name was called as the winner of the Best Actress award for her role in Monster's Ball, it was like the heavens themselves had dropped an Oscar statuette into her lap. Not only was she the first African-American woman to win the coveted prize, but her heartfelt and emotional acceptance speech left no dry eye in the house. Berry's victory was a giant step forward for diversity in Hollywood, and she did it with such grace and poise that she made winning an Oscar look like a piece of cake.
3

Moonlight Mixup: 2017 Oscars

Ah, the Moonlight mixup at the 2017 Oscars. It was like watching a real-life game of musical chairs with the most prestigious award in the film industry. For a brief, heart-stopping moment, the world was treated to the ultimate plot twist: La La Land was announced as the Best Picture winner, and Hollywood's favorite musical was basking in the spotlight. Unfortunately, there was a mixup of pretty epic proportions.

In a delightful turn of events, it was revealed that Moonlight was the victor. The entire cast and crew rushed to the stage like a troop of actors in a Shakespearean comedy. It was as if the Academy Awards had suddenly turned into an impromptu theater production with a surprise ending. And let's not forget Warren Beatty and Faye Dunaway, who played the roles of our befuddled narrators in this surreal drama.

The Moonlight mixup is now a symbol of the unpredictability and chaos that can sometimes grace award shows, reminding us all that even in the world of glitz and glamour, the universe has a sense of humor, and sometimes it likes to mess with our carefully scripted moments.
2

Miley Cyrus's VMA Performance: 2013 MTV Video Music Awards

One performance that's etched into our collective memory is Miley Cyrus's 2013 MTV Video Music Awards spectacle. If you missed it, you must've lived under a rock or on Mars because this was a pop culture phenomenon of epic proportions.

Miley swung in like a wrecking ball, shedding her wholesome Disney image faster than you can say, Hannah Montana. Dressed in what could only be described as a futuristic teddy bear leotard, she twerked, gyrated, and provocatively waved her foam finger in ways that shocked and fascinated viewers in equal measure. Her tongue became a bizarrely prominent co-star, wagging like a dehydrated puppy.

Miley seized her moment and left jaws dropped and parents clutching their pearls. The performance was so scandalous it even had Robin Thicke looking a little lost.

Love it or hate it, there's no denying the impact of Miley's VMA performance. It was a defining moment in her career and award show history, proving once and for all that she can't be tamed. Like her or not, you can't deny that Miley knows how to make an entrance—and an exit, leaving us all wondering, "What the twerk just happened?"
1

Steve Harvey's Miss Universe Blunder: 2015 Miss Universe

The 2015 Miss Universe pageant—the year Steve Harvey gifted the world with a blunder so epic it practically broke the internet. In what can only be described as a cosmic mixup of galactic proportions, the charismatic host accidentally crowned the wrong contestant as the winner.

As Harvey confidently announced Miss Colombia, Ariadna Gutierrez, as the new Miss Universe, the glittering tiara was placed on her head, and the world rejoiced. But moments later, the universe threw a curveball—and poor Steve was forced to backpedal faster than a cat on a hot tin roof. The real winner was, in fact, Miss Philippines, Pia Wurtzbach. It was one of those cringe-worthy "I have to apologize" moments that'll live in awards show infamy.

The incident turned Harvey into a walking meme. The internet exploded with GIFs, memes, and jokes galore. But credit where it's due, Steve Harvey took it in stride, poking fun at himself and eventually becoming a beloved figure in the Miss Universe family.