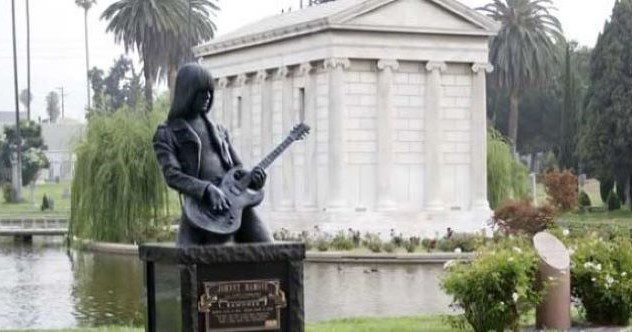 We all know that Hollywood can be an eccentric town filled with larger-than-life personalities. With wealth and fame, many stars are afforded the opportunity to indulge their whims. Certain entertainers will build monuments or commission great works of art in an attempt to immortalize themselves and create an enduring legacy for future generations.
In the following list, we will look at the humorous and strange ways that some celebrities chose to be memorialized. Specifically, we will examine the odd and quirky statements that were inscribed on their tombstones for their final voyage down the red carpet.
Related: 10 Fabulous Graves (Almost) Worth Dying For
10

Penn & Teller: "Is this your card"

Perhaps the weirdest tombstone on our list is not for a deceased individual but for a living comedy duo! The magic act Penn & Teller have pre-emptively commissioned their tombstone to be created in anticipation of the inevitable. The pair have been performing together for over 45 years and started out in Philadelphia, busking on street corners before finding stardom and moving on to shows on Broadway.

Penn & Teller have subsequently been nominated for a slew of awards and have made guest appearances on such shows as The Simpsons, Friends, and Modern Family. The inscription on their epitaph reads, "Is this your card?" in honor of their flair for illusion and trickery. Too bad these two couldn't predict the date of their own demise—now that would be a magic trick worthy of the ages![1]
9

Leslie Nielsen: "Let' er rip"

Loveable wiseacre Leslie Nielson (1926–2010) is best known for playing Detective Frank Drebin in the Police Squad! series and The Naked Gun movies. However, this Canadian-born actor began his career in dramatic films such as Forbidden Planet and The Poseidon Adventure before shifting into comedy.

After his performance in Airplane!, Nielsen skyrocketed to fame and went on to star in Dracula: Dead and Loving It as well as the Scary Movie franchise. Nielsen possessed an undeniable penchant for toilet humor, and it is therefore fitting tribute that his tombstone should read "Let' er rip" in honor of his talent for slapstick comedy.[2]
8

Rodney Dangerfield: "There goes the neighborhood"

With his catchphrase, "I don't get no respect!" Rodney Dangerfield (1921–2004) established himself as one of the funniest comedians of the last century. Hailing from New York, Dangerfield struggled for years as a stand-up comic before becoming a staple of the late-night talk show circuit. He made a string of highly successful films in the 1980s, including Caddyshack, Easy Money, and Back to School.

As the "King of the Zingers," it is only appropriate that his parting message to the world is "There goes the neighborhood," implying that his presence in the cemetery will diminish property values. A comedian to the end, that's for sure.[3]
7

Bette Davis: "She did it the hard way"

Considered by many as the greatest actress who ever lived and often referred to as the "Fifth Warner Brother," Bette Davis (1908–1989) was one of the biggest stars of Hollywood's Golden Age. Hailing from New England, Davis was a "proud Yankee" who insisted on offering up authentic and, at times, unglamorous performances that resonated with audiences. She went on to star in such classic films as Jezebel, All About Eve, and Whatever Happened to Baby Jane?

She was also a stickler for getting every detail just right, and her preoccupation with perfection made life difficult for her co-stars. According to Robert Wagner, while performing in the Broadway play Night of the Iguana, she "antagonized her leading man to the point that he tried to strangle her." As a result, it is not surprising that her legacy is summed up with the enduring line, "She did it the hard way."[4]
6

Joan Hackett: "Go away—I'm asleep"

At our fifth spot is the intrepid actress Joan Hackett (1934–1983), best known for her role in the 1981 film Only When I Laugh, for which she was nominated for an Academy Award and won a Golden Globe. A high school dropout, Hackett went on to become one of the most celebrated theater actresses of her generation and soon attracted the attention of Hollywood. She would go on to make appearances on such television shows as The Twilight Zone, The Defenders, and The Love Boat.

Tragically, Hackett passed away due to ovarian cancer at the premature age of 49, and she was interred at the Hollywood Forever Cemetery. After such a prolific career, her epitaph fittingly reads, "Go away – I'm asleep."[5]
5

Billy Wilder: "I'm a writer but then nobody's perfect"

Billy Wilder (1906–2002) was the genius responsible for such Hollywood classics as Sunset Boulevard, Double Indemnity, and The Apartment. The Austrian-American filmmaker is considered by many to be the greatest screenwriter who ever lived. By tackling difficult subject matter related to alcoholism, prostitution, murder, and infamy, Wilder's films helped usher in modern cinema.

He began his professional life studying law in Vienna before dropping out to become a newspaper reporter and fled to America after the Nazi party took control of Germany in 1933. He became known primarily for his acerbic and biting wit, which is clearly on display on his headstone. Mocking the temperamental and ruthless reputation associated with artistic personalities, Wilder quips in his self-deprecating manner, "I'm a writer but then nobody's perfect."[6]
4

Merv Griffin: "I will not be right back after this message"

Merv Griffin (1925–2007) is best remembered for his talk show which ran for over two decades and won multiple Emmy awards. However, he was also a brilliant media mogul, creating game shows such as Jeopardy and Wheel of Fortune. Growing up outside San Francisco, he would host shows on his back porch and cast local kids to star in his productions. He briefly worked as a musician and a bank teller before moving into theater and becoming an entertainer.

His background on Broadway and radio was a perfect fit for daytime television, and his success in the medium made him a household name. His epitaph is an appropriate tribute to his career in television and a playful message to his fans that "I will not be right back after this message."[7]
3

Mel Blanc: "That's all, folks!"

Mel Blanc (1908–1989) is the genius behind the voices of such characters as Bugs Bunny, Daffy Duck, and Porky Pig. He is considered America's greatest voice-over artist and created more than 400 characters. He discovered his talent when he co-hosted a radio program out of Portland, Oregon, with his wife and was forced to disguise his voice to create the illusion of additional cast members. A gifted and prolific performer, Blanc worked on approximately 3,000 cartoons over the course of his 50-year career.

The majority of his work took place at Warner Brothers; however, he also provided the voice for Barney Rubble on the hit television show The Flintstones as well as various characters in the film Who Framed Roger Rabbit. It is only appropriate that his final farewell to his fans should be an homage to the famous Looney Tunes caption, "That's all, folks!"[8]
2

John Belushi: "I may be gone, but Rock and Roll lives on"

John Belushi (1949–1982) was an integral figure in the American comedy scene during the 1970s and '80s. Starting out at Second City, Belushi was drafted to become a member of Saturday Night Live and found international fame for his energetic and eccentric comedy style. With his co-star Dan Akroyd, he developed the characters of the Blues Brothers and would go on to star in the comedy classic Animal House.

Belushi was also well known for his self-destructive tendencies, and at the tender age of 33, he tragically died from a drug overdose at the Chateau Marmont. His unrepentant love for partying is clearly displayed on his tombstone, which sums up his mantra for life, "I may be gone, but Rock and Roll lives on."[9]
1

Jackie Gleason: "And away we go!"

Jackie Gleason (1916–1987) is an iconic figure from American television, having starred in the hit show The Honeymooners. Growing up fatherless in the slums of Brooklyn, Gleason got his start in vaudeville and soon transitioned to Broadway, where he was discovered and signed to Warner Brothers. He would go on to star in a series of highly successful films, including Smokey and the Bandit and The Hustler (for which he was nominated for an Oscar).

The saying that will forever immortalize Gleason is "And away we go!" which was the title of a music/comedy album he released in 1954.[10]