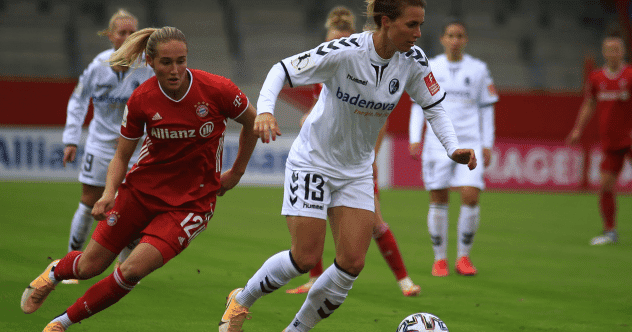 Today, we celebrate some of the most badass women in sports. These ladies have dominated their respective fields and paved the way for future generations of female athletes. Their hard work, dedication, and sheer talent have made them a force to be reckoned with, inspiring countless young girls to pursue their own athletic dreams. So, without further ado, let's look at the top ten women athletes who have made their sport more popular.
Related: 10 Athletes Whose Careers Have Been Defined by Mistakes
10

Mia Hamm (USA): Soccer

Let's take a trip back to the golden days of women's soccer when a powerhouse named Mia Hamm hit the field and changed the game forever! This soccer sensation was more than just a player; she was a trailblazer who catapulted women's soccer into the limelight.

Mia Hamm burst onto the scene in the 1990s, and her raw talent and charisma quickly won hearts both on and off the pitch. With her lightning-fast footwork and deadly accurate shots, she showcased her skills in a way that captivated audiences worldwide. But it wasn't just her talent that made her stand out – her passion and unwavering dedication to the sport set her apart.

As Mia's star rose, she became a symbol of female empowerment and a beacon of hope for aspiring athletes everywhere. Young girls looked up to her, dreaming they could make it big in a male-dominated sports world. And boy, did she deliver! Hamm's achievements included two Olympic gold medals and two World Cup championships, cementing her status as an all-time legend.

But Mia's impact extended far beyond her impressive trophy collection. She used her platform to advocate for women's sports, demanding equal treatment and recognition. Through her efforts, she helped pave the way for a new generation of female athletes to chase their dreams.
9

Sonja Henie (Norway): Figure Skating

During the 1920s and '30s, figure skating was a sport that catered to a specific audience. However, Sonja Henie soon appeared on the scene and astounded spectators with her exceptional talent and charisma. Henie didn't merely win competitions; she dominated them! Her charm and showmanship were unparalleled, and she knew how to captivate a crowd like no one else.

What set Henie apart was her daring decision to blend athletics with entertainment. She didn't want to limit herself to executing impressive jumps and spins; she wanted to put on a show. As a result, she incorporated music and dance into her routines, creating a fusion of sports and art that left audiences in awe.

Suddenly, figure skating was no longer only for hardcore sports enthusiasts; it became a must-see spectacle for everyone. Sonja's influence packed arenas with cheering fans, and figure skating gained international popularity like never before.

Sonja Henie also paved the way for figure skaters to become genuine celebrities, crossing over to the silver screen and even winning three Olympic gold medals.
8

Kim Yeon-koung (South Korea): Volleyball

Born in South Korea in 1988, Kim Yeon-koung began playing volleyball at a young age and quickly showed a natural aptitude for the game. She joined the Korean national team in 2005 and has been a fixture ever since.

Over the years, Kim has become one of the most dominant players in the sport. She is known for her incredible power, precision, and agility and has won countless awards and accolades for her performances on the court.

But it's not just her skill that has made Kim so popular. She is also a beloved figure off the court, known for her humble demeanor, hard work, and dedication to her team. Fans all over the world admire her for her talent and her character, and she has become a true icon in the world of sports.

Thanks to Kim's incredible success, volleyball has become more popular than ever before. Her fans worldwide watch her games, buy her merchandise, and follow her every move on social media. She has inspired a new generation of young athletes, both in Korea and beyond, and has helped put volleyball on the map as one of the world's most exciting and dynamic sports.
7

Billie Jean King (USA): Tennis

Billie Jean King is a name that's synonymous with tennis and for a good reason. King's accomplishments are numerous. She won a whopping 39 Grand Slam titles, including 12 singles titles. She was also instrumental in creating the Women's Tennis Association, which united female players worldwide and gave them a voice in the sport.

But perhaps King's most famous moment came in 1973 when she took on Bobby Riggs in the Battle of the Sexes. Riggs, a former men's tennis champion, had been trash-talking women's tennis for months, claiming that even at 55, he could beat any female player.

King accepted his challenge, and on September 20, 1973, she beat him in straight sets. The match was watched by an estimated 90 million people around the world, and it cemented King's place as a feminist icon and trailblazer for women's sports.

Even today, King's influence can be felt in the world of tennis and beyond. She continues to advocate for gender equality in sports and beyond, and her legacy inspires young athletes everywhere.
6

Oksana Chusovitina (Uzbekistan): Gymnastics

Oksana Chusovitina, the Uzbekistan-born gymnast, has had a long and illustrious career in gymnastics. She has competed internationally since 1990 and has represented the Soviet Union and Germany before finally landing on the Uzbekistan team. But what really sets Chusovitina apart is her age. At 46, she still competes at a high level and has become a legend.

Chusovitina has made a name for herself in gymnastics and has also helped to bring attention to the sport. Her longevity and continued success have inspired many people to take up gymnastics popularizing the sport in countries that may not have had as much interest.

Chusovitina's accomplishments are truly impressive. She has competed in seven Olympics and has won a total of nine medals. She has also been a world champion three times and has won numerous international competitions. But what is perhaps most remarkable is that she has done all this while balancing family life and raising a son.
5

Diana Taurasi (USA): Basketball

In the realm of women's basketball, an indomitable force has left an indelible mark on the sport—Diana Taurasi. This tenacious athlete has not only redefined the game but also transcended the barriers of gender to become a symbol of empowerment for aspiring female athletes around the globe.

Taurasi's meteoric rise to fame can be traced back to her collegiate days at the University of Connecticut, where she exhibited unparalleled prowess on the court. Her unmatched skills and fierce determination helped the Huskies clinch three consecutive NCAA championships, cementing her legacy as one of the game's greatest.

However, in the professional league, Taurasi truly captured the world's attention. As a cornerstone of the Phoenix Mercury, she revolutionized how women's basketball was played. Her ability to drain shots from beyond the arc with pinpoint accuracy and unmatched court vision made her an offensive juggernaut.

Taurasi's electrifying style of play brought throngs of fans to arenas and television screens alike. Her fearlessness and grit inspired a generation of young girls to dream big and embrace their love for sports without constraints. She shattered records, secured multiple WNBA championships, and became the league's all-time leading scorer.
4

Stafanie Taylor (Jamaica): Cricket

In cricket, few athletes have left a lasting mark on their sport like Stafanie Taylor. This Jamaican cricket prodigy's journey from a small village to global prominence has elevated her status and thrust women's cricket into the limelight.

Taylor's ascent to stardom began at an early age when she displayed exceptional cricketing skills, drawing attention to her immense potential. She quickly rose through the ranks with unwavering determination and a relentless work ethic, dominating both bat and ball. Her versatility as an all-rounder caught the attention of cricket enthusiasts worldwide, who were enthralled by her flair and finesse.

Taylor's performances in various domestic and international tournaments shattered records, earning her accolades and recognition as one of the finest athletes of her generation. Her leadership qualities, poise under pressure, and sportsmanship made her an exceptional captain for the West Indies women's cricket team.

Through her unwavering dedication, Taylor played an instrumental role in breaking down barriers and bridging the gap between men's and women's cricket. Her contributions extended beyond the field, advocating for gender equality and empowering women through sports.
3

Wilma Rudolph (USA): Sprinting

In the annals of sports history, few names shine as brightly as Wilma Rudolph. Born on June 23, 1940, in Saint Bethlehem, Tennessee, Rudolph's journey from overcoming adversity to becoming a celebrated athlete is nothing short of remarkable. Her extraordinary feats on the track made her an Olympic champion and brought newfound popularity to her sport.

Wilma Rudolph's athletic prowess was evident early, but her journey to the top was fraught with challenges. Stricken by polio at the tender age of five, Rudolph faced paralysis and uncertain prospects for walking, let alone running. However, her spirit and relentless determination drove her to defy the odds. Through grueling physical therapy and unwavering perseverance, she emerged victorious over her debilitating ailment.

As she delved into track and field, Rudolph's talent blossomed, and she quickly became a formidable force on the track. At the 1960 Rome Olympics, she etched her name in history by winning three gold medals in the 100 meters, 200 meters, and 4×100 meters relay events. Her mesmerizing performances captivated the world, and she became a symbol of triumph over adversity.
2

Karine Ruby (France): Snowboarding

Karine Ruby burst onto the snowboarding scene in the 1998 Winter Olympics, where she etched her name in history by winning the first-ever Olympic gold medal for women's snowboarding. This victory catapulted her into the limelight and solidified her status as an icon in the sport. Ruby's charisma and exceptional talent sparked an unprecedented surge in interest in snowboarding, particularly among young women aspiring to follow in her footsteps.

Beyond her Olympic glory, Ruby's dominance in various snowboarding disciplines, including slalom, giant slalom, and parallel giant slalom, showcased her versatility and skill, further cementing her influence on the sport. Her groundbreaking achievements served as a catalyst for snowboarding's inclusion in major winter sports competitions, leading to increased media coverage and global recognition.

Tragically, on May 29, 2009, Karine Ruby's life was cut short when she succumbed to a mountaineering accident. However, her legacy remains in the hearts of millions worldwide, with her indomitable spirit inspiring future generations of snowboarders.
1

Kathy Whitworth (USA): Golf

Throughout the 1960s and 1970s, professional golf was predominantly male-dominated, with limited opportunities for female players. However, Kathy Whitworth's arrival on the scene marked a turning point. Armed with a powerful swing and steely resolve, she quickly began to shatter records and redefine the possibilities for women in the sport.

Whitworth's illustrious career spanned an astonishing four decades, during which she racked up an unparalleled 88 LPGA Tour victories, a record that remains untouched today. Her consistent dominance and professionalism earned her the respect of her peers, further propelling her status as a trailblazer in women's golf.

But it wasn't just her impressive wins that made her a household name; it was her unwavering commitment to growing the sport. Whitworth tirelessly promoted women's golf, using her platform to advocate for more tournaments, better facilities, and increased media coverage. Her efforts laid the groundwork for future generations of women golfers to thrive.